Materials
Webinars

Ensinger
PEEK Tube Manufacturing
Dec 16, 2021 - 9-10AM EST
Website
Design By
High Performance Compression Molded Engineering Plastics
Unique Capabilites for Large Diameter Rings

Up to 90" OD in HPMs like PEEK and PPS
UHMW and PTFE molded parts starting at 26" OD
Unfilled PEEK resin meets Mil P 46183 Type I
Not every application demands high volume production runs of standard materials. Smaller quantities of high performance compounds may be required. In these cases, the economics and flexibility of compression molding may apply. Ensinger offers custom compounding and compression molded shapes of specialty high performance engineering plastics. Standard and near net shapes are available in a number of custom formulations based on materials such as TECATRON PPS, TECAPEEK polyetheretherketone, and various grades of high temperature polyimide and polyamide-imide. Common shapes include rings, rods, plates tubes and discs.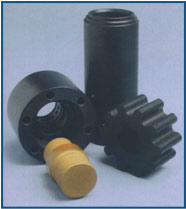 Sliding and rotating bushings and bearings
Pump rotors
Gears
Electrical components
Gaskets and seals
Components for semiconductor manufacturing
Pump and valve structural parts
Hydraulic components
Down-hole intrumentation
For the highest quality in cost-effective, high performance thermoplastics, trust your requirements to the expertise of Ensinger.